Charts & Books
24 item(s) found.

Page:

[1]

2
We stock an enormous range of Threads in just about every colour of the rainbow! We stock the 4 main types of DMC thread giving you everything you need for your cross stitch project.

Working out Thread Quantities
We are often asked about how to work out how much thread you will need. Click here for more information on calculating required thread quantities.

Michael Powell provides twenty mini cross stitch designs, each accompanied by a full-colour chart, key and general instructions. Each of Michael's unique, quirky contemporary designs measures approximately 3½ x 3½in (9 x 9cm), though the designs come in a variety of formats and include tall, narrow designs as well as borders. All the designs can be worked on 14-count Aida or evenweave fabric.

There's a broad range of subjects to choose from, including country cottages, flowers, hearts, and festive Christmas trees, so whatever the occasion, there is bound to be a design that suits it perfectly. There are general instructions and simple stitch diagrams at the beginning of the book, so even those new to cross stitch will be able to accomplish all of the projects, as well as notes on fabric preparation and washing instructions.

Contents:
Introduction 4
Stitching instructions 6
Simple daisy 8
Heart with jewels 10
Garden shed 12
Cupcake hearts 14
Orange tree at sunset 16
Chapel in moonlight 18
Queen of hearts 20
Cottage with orange trees 22
Mountain cottage 24
Heart border 26
Border with flower 28
Hearts in tall glass vase 30
White village 32
Heart dangle 34
Sunny windowsill 36
Christmas tree with snow 38
Bunch of flowers 40
Birthday cake 42
Country cottage 44
Daisies 46

Includes 50 illustrations

Size : 155x215 mm Softback 48 pages

Also available : Christmas Cross Stitch by Michael Powell


RRP:

£4.99



Our Price:

£4.49




Code: 1768





This fun embroidery book contains hundreds of creative needlework designs you can use to personalise all sorts of things! From a little hand-sewn gift, to monogrammed linens and cushions, to a well-worn and well-loved pair of jeans.

501 Enchanting Embroidery Designs offers simple hand embroidered motifs that highlight life's small pleasures: Motifs from the kitchen or garden (teacups, fruits and cosy reminders of home); Sweet feminine embellishments for your household zakka projects (flowers, pets, fashion elements); Designs for your child's clothing, drawn in a kid-friendly style; Traditional designs such as monogrammed initials and elegant borders. These freestyle designs are doable even for embroidery beginners and will always add that special touchfrom an apron for your best friend to the neckline of your favourite top. No matter what you choose to leave your mark on, you are sure to find inspirational designs perfect for any occasion.

Softback - 96 pages
Size - 203x254 mm

RRP:

£5.99



Our Price:

£5.49




Code: 1775





From picnics to garden themes, this book features lovely, happy cross stitch charts for both beginner and advanced stitchers. The featured patterns can be used for any number of projects. Many of them are smaller in size and would be ideal for home crafting projects such as cards, pictures, cushions, sachet bags, or pincushions. The cohesive floral theme makes it easy for the stitcher to create larger and more elaborate patterns. Crafters are sure to enjoy this collection of pretty, colorful designs.

Softback - 111 pages
Size - 165 x 8 x 222 mm

RRP:

£9.95



Our Price:

£8.29




Code: 1773





Blackwork is a traditional type of counted-stitch embroidery. Monochromatic, with superb shadow effects, it has been revisited here in a magnificently graphic, contemporary style highlighted with occasional splashes of colour.

The 13 patterns designed by Bernadette Baldelli modernize the technique by adding a touch of red to the traditional black and white, and by including both geometric and more figurative styles. You'll discover a lush, graphic world with embroidery that is simple to do and gives stunning results.

You can make a basket, a pouch, wall hangings, place mats, an embroidered shirt, throw blanket and more. Simple diagrams make them easy to do, and there is a wealth of tempting patterns to choose from.

Bernadette's creations are known for their excellent finishing touches and these are no exception.

Paperback.

RRP:

£9.99



Our Price:

£8.99




Code: 1753





This new book from Japanese cross stitch sensation Makoto Oozu is packed with hundreds of tiny motifs that can be stitched onto anything from badges and hankies to T-shirts and bags. You will find it impossible to choose a favourite!

The book is arranged by themes inspired by all aspects of everyday life. Take a trip to the toyshop with teddies, dinosaurs, cars, trains and computer games. Make sure you're on trend with sunglasses, watches, socks, jewellery and makeup. Visit the shoe shop with different trainer designs as well as cowboy boots, high heels and sandals. Keep yourself active with boxing gloves, tennis rackets, balls, ice skates and skis. Stitch up your friends by choosing from different faces and hairstyles. Go wild with dogs, cats, birds and fish. Fill up on cakes, ice creams, sushi, spaghetti, doughnuts, wine, beer and biscuits. Get your five-a-day with carrots, radishes, chillies, bananas, cherries, a pineapple and a watermelon. Enjoy your free time with TVs, cassette tapes, cameras, sewing equipment and tools.

With step-by-step cross stitch instructions for beginners, as well as tips for stitching onto different fabrics, be warned: this is an addictive hobby! Once you start, you will soon be stitching these super awesome motifs onto anything and everything.
About Makoto Oozu
Makoto Oozu began a career as an independent cross stitch designer after graduating from university and working in a craft shop. He has revolutionised the cross stitch world with his fresh designs, making cross stitch more accessible to young women and men. He lives in Tokyo, where he runs his design company, Oozu Inc, and he teaches cross stitch workshops all over Japan.

Paperback - 96 pages covering 900 motifs
Size - 180x254 mm

RRP:

£9.99



Our Price:

£9.29




Code: 1772





These are beautifully delicate Christmas cross stitch designs to delight the heart and soul! If you love cross stitch, you need this book.
Extremely pretty these designs from accomplished embroiderer Hélène Le Berre are light and airy, using backstitch to outline and emphasize with great skill.
Split into chapters on Advent Foliage, Christmas Animals, Festive Foliage and Amazing Alphabets, there is a lovely range of designs to fit every Christmas situation.
You can make beautiful cutlery pockets with fox, bunny or baby deer motifs, a reindeer photo album cover, a pine cone confectionery sachet, personalized gift labels and many more elegant embroidered Christmas items.
The charts are beautifully presented, along with a comprehensive techniques section at the back of the book.

Suitable for beginners to more advanced stitchers, these designs are achievable and just gorgeous.

Softback - 96 pages with 60 patterns; includes technique instruction, 86 illustrations and making up ideas.

RRP:

£9.99



Our Price:

£9.29




Code: 1767





This much-needed book features all you need to create beautiful stitched work. Helen McCook includes the major stitches, with expert advice on padding, couching, using colour and mixing techniques. While covering the traditions of goldwork, she develops techniques offering innovative design, new ideas and inspiration.

The Royal School of Needlework (RSN) teaches hand embroidery to the highest standard and is well respected all over the world. It not only upholds the traditions of English embroidery that go back many hundreds of years, but is constantly taking embroidery forward in new and innovative ways. This series of Essential Stitch Guides has been produced in close collaboration with the RSN with the aim of providing a set of definitive works on traditional embroidery techniques. All of the authors were chosen by the RSN and all are graduate apprentices of the Royal School. Goldwork is all about the interplay of colour, texture and light, and it is this quality that is at the heart of Helen McCook's work. The book starts with a historical account of goldwork, then moves on to the materials and equipment required, framing up, how to transfer a design on to fabric and how to start and finish a thread. The main section of the book then covers all of the essential stitches and techniques through clear, step-by-step diagrams and photographs, coupled with beautiful, close-up photographs showing how then can be used in a finished piece. These include couching, bricking, basketweave, cutwork, spangles, s-ing, pearl purl, plate and kid. The book ends with a section in which the techniques described in the previous section are combined to create finished pieces, all beautifully and exquisitely worked by the author.

Compact, spiral-bound, easy-to-use lay-flat format
Published in conjunction with the prestigious RSN, whose expertise makes it an indispensable resource for both beginners and professional embroiderers
Inspirational finished works, traditional and contemporary, to show how the stitches can be used

96 pages including 150 illustrations

Hardback :spiral-bound, easy-to-use lay-flat format
Size : 155x215 mm


RRP:

£10.99



Our Price:

£9.99




Code: 1770





Transform plain shirts, drab pillows, and impersonal gifts into cute, creative pieces you're proud to show off. With detailed instructional pages, a complete stitch guide, and advanced cat motifs, this book is perfect for embroiderers of all levels. Learn about the art of embroidery by creating adorable, realistic felines that pop out of your work. Monogram your clothes and personal items with cats peeking between the letters. Master each stitch with help from the stitch guide and learn everything from the straight stitch to the bullion knot. From kitty corners and borders to classic felines and festive holiday cats, Cat Lady Embroidery has a cat to embroider for every occasion.

Softback - 120 pages
Size - 210x261 mm

RRP:

£12.99



Our Price:

£11.99




Code: 1776





The Absolute Beginner's Guide - Learn By Doing - Step-by-Step Basics + Projects
In First Time Embroidery and Cross Stitch, expert stitcher Linda Wyszynski introduces beginners and beyond to a variety of hand stitching techniques.
Following an overview of the basic materials for all the methods covered, the book presents step-by-step tutorials for classic embroidery, crewel, silk ribbon embroidery, bead embroidery, cross-stitch, and other timeless techniques.
The simple home décor and fashion projects let readers develop skills they can use to embellish and personalize their own custom creations.

Paperback.

Free UK Postage

RRP:

£12.99



Our Price:

£11.99




Code: 1752





sampler is a project made from a "sampling" of different stitches or different motifs.

Once the learning tool that helped generations of youngsters master basic needlework skills, this traditional project is still a great way to learn and practice embroidery skills as well as a creative way to add colour to a room or a fabric item. This book brings the sampler into the 21st century with 16 beautiful, contemporary designs for sampler art using cross-stitch, surface, counted-thread, and freestyle embroidery (including instructions and diagrams for each technique).

Each design can be framed like a traditional sampler or finished with a number of creative ideas for taking sampler art beyond the wall hanging.

Softback - 112 pages
Size - 216x280 mm

RRP:

£13.99



Our Price:

£12.59




Code: 1774





Better known as Stitchrovia, Emma Congdon has produced a collection of beautifully-designed motivational and inspirational quotes rendered in easy cross-stitching techniques that will raise the spirits, both during the making process and beyond, as treasured pictures on the wall in Cross Stitch for the Soul.
Designed by leading cross stitch designer Emma Congdon, whose modern styling appeals to crafters of all ages and abilities, these inspiring quotes will provide comfort, motivation and an all-round positive spin on life, reminding us that we are brave, strong and have the power to make our own futures one stitch at a time!
Includes 20 inspirational designs.

Paperback.

Free UK Delivery

RRP:

£16.99



Our Price:

£14.49




Code: 1754





Create twenty unique and whimsical Christmas cross-stitch designs with this latest addition to the Twenty to Make series. Emulate Michael Powell's distinctive cross-stitch style to make Christmas cards or samplers as special gifts for friends and family. Designs range from festive candle arrangements to vintage winter street scenes, and each design is accompanied by an easy-to-follow stitching guide.

Contents :
Introduction 4
Stitching instructions 6
Hanging Baubles 8
Festive Townhouse 10
Christmas Candle 12
Catch a Falling Star 14
Sparkling Snowflake 16
The Christmas Star 18
O Christmas Tree! 20
Season's Greetings 22
Dancing Trees 24
Candle Cluster 26
Wintry Chapel 28
Christmas Bell 30
Christmas Cake 32
Coloured Light Border 34
Heart Decoration 36
A Stack of Gifts 38
Starlit Stable 40
Snow-topped Tree 42
Little Christmas Tree 44
Vase of Stars 46

Includes 50 illustrations

Size : 155x215 mm Softback 48 pages

Also available : Mini Cross Stitch by Michael Powell


RRP:

£4.99



Our Price:

£4.49




Code: 1769





Goldwork is the art of embroidery with metal threads, and has been prized by religious orders and royal households throughout history for its opulence and intricate stitchery. Those who love traditional embroidery can now learn the essential techniques and create their own exquisite embroideries with this easy-to-follow, step-by-step guide.

Through careful and detailed instruction, Ruth Chamberlin teaches you how to stitch beautiful goldwork motifs, which together form an impressive sampler to show off their work. Covering a range of designs, stitches and techniques, with templates throughout and examples of the author's inspiring work, this book provides a firm basis on which to build future projects and continue on your goldwork journey.

A beautifully illustrated, step-by-step guide for beginners.
Stitches and techniques are learnt through a series of decorative motifs.
Includes a preface by world-renowned embroiderer and blogger Mary Corbet.

Softback.

RRP:

£9.99



Our Price:

£9.99



Special Offer:

£8.99




Code: 1659





Profane, funny, and smart, Haley Pierson-Cox's Improper Cross-Stitch invites the modern crafter to bring personality and humour to their cross stitch projects. From a fully designed 'Damn it feels good to be a crafter' to the beautiful Art Deco inspired designs, Haley's patterns are fresh, lively and just what the crafter ordered. In this book, she'll introduce readers to the joys of stitching the naughty, the profane, the irreverent, and the just plain awesome. First, she starts with a basic lesson in cross-stitch technique, no previous experience required. Then, once readers know their way around an embroidery hoop and a skein of floss, the books moves on to the designs - 35 in total, ranging from hip, to nerdy, to ironically domestic - where Haley encourages crafters to embrace their inner snark with gleeful abandon.

Hardback

RRP:

£14.99



Our Price:

£14.99



Special Offer:

£12.99




Code: 1660





A chart booklet with Christmas ideas using the new DMC Coloris thread. Designs as shown in the picture.

RRP:

£4.19



Our Price:

£3.59




Code: 1323




Featured Items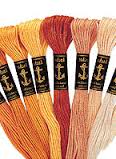 Anchor Stranded Cotton - £0.87
More Info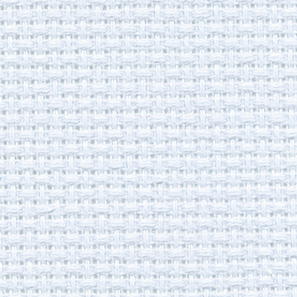 FA14D : Traditional Aida - 14 Count : Standard Sizes - £0.00
More Info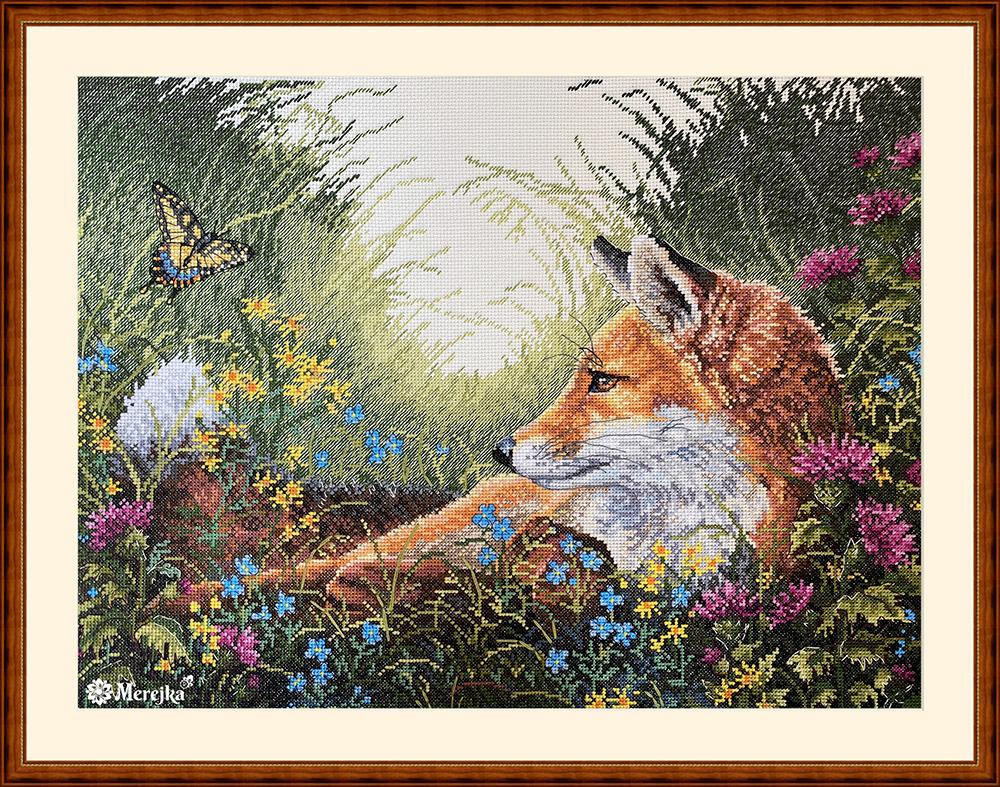 K-176 Day Dreaming - £48.99
More Info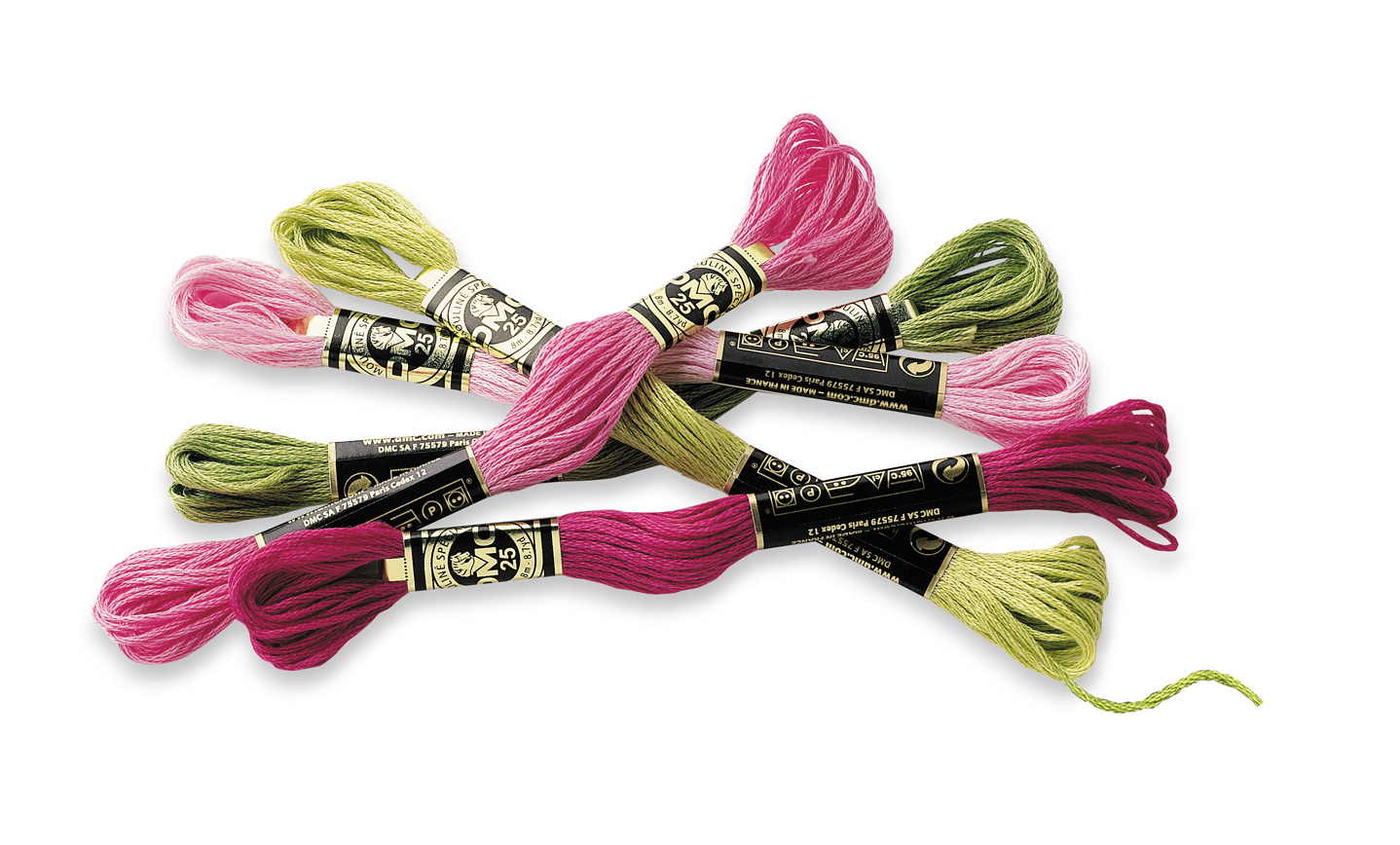 DMC Stranded Cotton Skein Quick Order - £0.79
More Info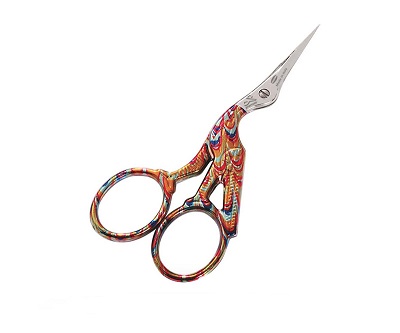 ASP : Stork Embroidery Scissors - £8.49
More Info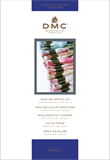 W100B DMC Colour Thread Card - £29.99
More Info

>>View All Featured Items